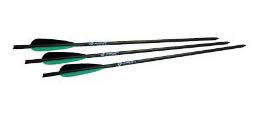 You will need proper crossbow bolts (not arrows!) for your crossbow. Although there is a wide range of bolts on the market the ones you use will depend completely on the crossbow you use.
Crossbow manufacturers will recommend the bolt grain weight, field point and broadhead for the crossbow to function effectively.
So unless you are an expert and you know what you are doing, we recommend that you buy a crossbow package. In this way you know you will get the bolts the manufacturer recommends for their crossbow.
Crossbow Packages
Most places sell crossbow packages, which not only provides a great saving to buying each item individually, but you also know that each item will be compatible with the others.
Popular packages will normally include the following:
Crossbow
3-5 bolts
Scope (either red dot or multiple recticle)
Cocking device
Quiver
However, to save some money you can go for a package which does not include the cocking device or quiver.
Related posts: