Like with rifle scopes you can get a vast array of crossbow scopes. Which one you choose really depends on preference and what you want to use the crossbow for.
The general rule of thumb is Multiple Reticle Scopes for longer distances (25+ yard) and Red Dot Scopes for shorter distances (up to 25 yards). If you shoot at both shorter and longer distances, you might have to bite the bullet and get both…
That said, most crossbow packages include a scope, so make sure that you like/have tested the scope if you want to get a package!
If you are a hardcore hunter you would probably want to get very specific scope, so check out whether a package or buying the items individually will be cheapest.
Multiple Reticle Scopes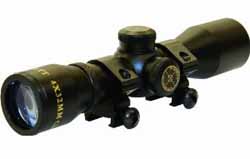 Very similar to rifle scopes, these scopes are very popular and are normally used for shooting longer distances when hunting/target shooting.
The scopes are magnified which concentrates your aim for longer distances, say 25 yards +, but you lose your field of view at shorter distances. 4x magnification at 10 yards will mean moving the crossbow a lot to find the spot for the kill shot!
A huge benefit is the multiple aiming points below the main crosshairs. These can be generally sighted in at 10 yard increments. So for example if your main crosshairs are sighted in at 30 yards, a 50 yard shot will be 2 aiming points (usually horizontal lines) below the crosshairs to account for the bolt dropping more at the longer distance.
Red Dot Scopes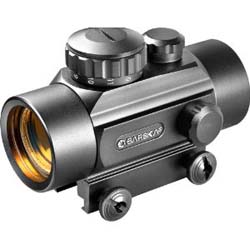 Red dot scopes are normally used for close up hunting or shooting, anything closer than 25 yards.
As they are not magnified they give you a great field of view close up. However, you will struggle to aim successfully at larger distances, with 50+ yards being extremely inaccurate.
For close up though, it is just point and shoot. With a powerful crossbow the bolt won't drop significantly over a few yards, so if you sight in the scope at 20 yards you would be able to cover 0-25 yards pretty easily.
The red dot is illuminated so on better scopes you can change its brightness which will be a godsend in low light conditions.
Related posts: