Things To Look For When Buying A Pistol Crossbow
Bows and crossbows are fun. There's something about the simple enjoyment of using archaic weapons to go target shooting, or even hunting. However, the large and powerful hunting crossbows can be somewhat off-putting if you're not experienced. They're certainly powerful weapons, capable of taking down large game if your aim is good. Yet that may not be what you want.
Many people enjoy simple target practice, or perhaps the occasional small game hunting. To that end, pistol crossbows are the perfect choice. They tend to be less powerful and smaller, which allows them to cost less. They're not powerful enough to take down large game, and even small game often has to be close to make the kill shot, but if that's what you're looking for then there's no problem with that. However, if you're new to the world of crossbows and have no idea what makes one pistol crossbow different from another, then you may simply go out and buy the cheapest one you can find.
That is a thing you should not do! Like any tool, a pistol crossbow sold cheaply is most likely a cheap crossbow. That is to say, it will be made of poor quality materials and will wear out quite quickly. And that's if you're lucky. If you're unlucky, it will break in such a way as to cause damage to you or someone near you. To that end, you should make sure you're getting a high quality pistol crossbow. If you have no idea what to look for, then try looking for the following things.
Primary Use Of Pistol Crossbow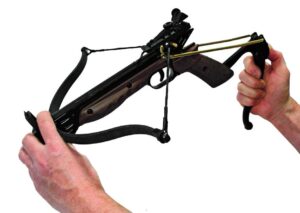 As mentioned, smaller crossbows are less capable of making a kill shot. If you're looking for a pistol crossbow, then chances are you're not trying to hunt big game. If you are, then you need to look for full sized crossbows. Pistol crossbows tend smaller, so they're not as powerful.
However, if you're wanting to hunt small game, you'll still want a larger crossbow. Small game, such as fish, rabbits, and other varmints, still need a shot powerful enough to pierce deeply into the body. So keep that in mind. If you're only wanting to do some target practice, then the weight and size of the crossbow is less important. Just keep in mind; the higher the draw weight, the more powerful the shot. Draw weight refers to how much weight is required to pull the string all the way back. Thus, higher draw weights mean more force that can be put into the shot.
Speed Of The Shot
Again, this is something that may not matter if you're planning on simple target practice. However, if you're planning on small game hunting, speed is incredibly important. A recurve bow can't store as much energy, which means it can't launch a bolt as quickly. Likewise, the weight of the bolt will have an effect on the speed of flight. Take care, however, because lighter bolts will be more prone to flying off-course due to wind conditions.
Noise Production
This ties back into why you need the pistol crossbow. If you're wanting to hunt small game, then you'll probably want a quieter bow. To that end, recurve bows are more quiet than compound bows. You'll have to determine if you're more likely to need the stealth, or the quick flying of the bolt when trying to hunt.
Weight Of The Crossbow
When you're considering the primary use of your pistol crossbow, you'll need to consider how long you'll need to carry it around, as well. If you're planning on hiking through the woods, you may want a lighter crossbow. It will be less of a burden over long periods of time. However, heavier crossbows are easier to keep steady, which means you're more likely to get a clean shot with a heavier one.
Who Manufactures The Pistol Crossbow
Not all manufacturers create equal pistol crossbows! Not just because different manufacturers will provide different features, but also because they'll use different quality materials and different quality labor. If you're planning on buying a pistol crossbow, do some research! Once you decide what you need, head to the internet and check out some customer reviews. Figure out which pistol crossbows will meet your needs the best, and also have the most options for accessories. Not all pistol crossbows are built to fit a scope, for example. If you want a scope, then you need to make sure your crossbow will be able to fit one.
Otherwise, when you're looking to buy a pistol crossbow you should do what you do when you're looking to buy anything. Check for price, and ask around. Just make sure you know what you want to use your pistol crossbow for before you try to buy. That's the best way to make sure you're getting what you actually need.
But The Big Question Is – Can It Kill A Zombie?!
Related posts: